Later this year, the UK will elect new leaders. Whatever their politics, we want to make sure that multiple needs is high on their agenda. Today we're publishing a toolkit to help you start a conversation in your service, organisation or community.
Last November we published Voices from the Frontline, which represented the views of frontline practitioners and people with personal experience of multiple needs. It explored what their lives are like and the challenges they face.
That's why this March we're starting a conversation about what the next Government should do in order to improve services and systems for people with multiple needs.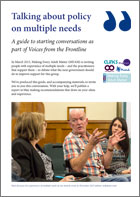 Anyone can join in, and we've produced a toolkit to help start this conversation. It contains advice on getting started, and a workshop outline with annotated slides that introduces some of the policy issues.
In April, we'll be inviting those who've participated to come together and help us write a report that will set out Voices from the Frontline's recommendations – to be published after the election.
In the meantime, we'll be sharing some of the discussions people are having on this blog. We hope you'll join the conversation – and look forward to hearing how you get on.
Download the toolkit
Download: