Andrew Brown (@andrewbrown365)
At the beginning of the month new regulations were introduced which should mean that local authorities and the substance misuse services they commission are better equipped to prevent deaths from opioid overdose.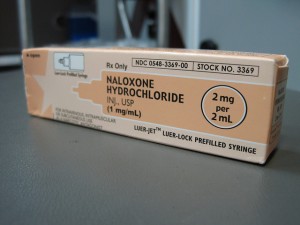 Naloxone, a medicine that reverses the effects of opioid overdose, can now be given to current and former heroin users, their family and friends, and anyone who is likely to witness an overdose (such as homeless hostel staff).
The last two years have seen rises in the number of deaths caused by heroin (from 579 in 2012 to 952 in 2014) meaning that action to reverse this trend is urgently needed.
The change in regulations follows careful assessment by the government's Advisory Committee for the Misuse of Drugs which concluded that:
"… naloxone provision is an evidence-based intervention, which can save lives. Naloxone provision fits with other measures to promote recovery by encouraging drug users to engage with treatment services, and ultimately, keep them alive until they are in recovery."

Making naloxone more widely available in the community is also endorsed by the World Health Organisation.  They recommend that:

"… people who are likely to witness an opioid overdose, including people who use opioids, and their family and friends should be given access to naloxone and training in its use so that they can respond to opioid overdose in an emergency if a medical response is not available."
The Making Every Adult Matter coalition welcomes the new regulations, which make it possible for any drug treatment service to supply the medicine without a prescription.
We know that people who have recently been released from prison, who are homeless, and those who relapse after a period of abstinence are all at enhanced risk of overdose, and that should they or those close to them have access to naloxone fewer are likely to die.
We hope that:
Commissioners in local authorities ensure that naloxone is part of the service specification for drug treatment providers, and require services working with people experiencing multiple needs to introduce procedures and training that allow it to be provided.
Drug treatment providers work with those providing services for people with multiple needs to ensure wider access to naloxone in high risk communities, and provide appropriate training for this group of people and those who work with them.
Organisations working with people with multiple needs in other sectors assess what actions they can take to reduce overdose deaths amongst those they work with including the provision of naloxone and the associated training.
People who are at risk of overdose ask their drug treatment provider, needle exchange, or other services whether they can access naloxone through them.
This legislation is only the first step, but if action follows then lives will be saved. This will allow more people to live long enough to recover from opiate dependency.
Further reading