Changes to policy at a national and local level affect all of us, but are most acutely felt by people with multiple needs, who are in contact with a range of services and yet often do not receive the support they require.
They are some of the most vulnerable people in our society and often suffer stigma and discrimination. This needs to change, and one way this can be done is through working to influence policy. People with multiple needs are likely to be affected by decisions that are taken at all levels.
Working to influence these decisions to ensure they will have a positive impact on people's lives can be quite daunting, not least because they are made by structures and bodies that can be very complex. However, by working directly with people experiencing multiple needs, you have a unique understanding of how to meet their needs – what does and does not work and importantly, how decision makers can work to achieve positive results and make a real difference to people's lives.
If you work directly with people experiencing multiple needs, or are an expert by experience yourself, then our guides on influencing policy are for you!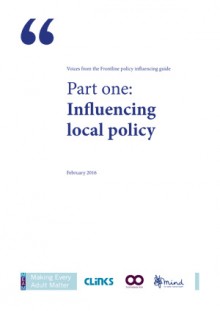 Part one: Influencing local policy
The first part of our guide aims to help you engage with a wide range of different bodies and stakeholders across criminal justice, health and housing; make them aware of the distinct needs of this group; and ensure they are taken into account in the design and delivery of services.
Download Influencing local policy as a PDF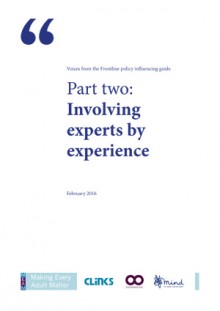 Part two: Involving experts by experience
The second part of the guide describes how to involve people with experience of multiple needs in policy influencing and lobbying.