Turning the Tide: A Vision Paper for multiple needs and exclusions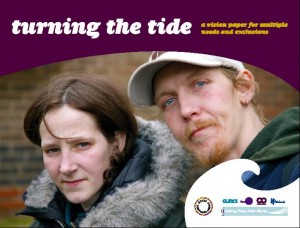 –
Turning the Tide is a joint publication by Making Every Adult Matter (MEAM) and Revolving Doors.
To download Turning the Tide click here.  If you are having problems with this download please right click and save a copy to your computer.
Our joint vision is that in every local area, people experiencing multiple needs are:
Supported by effective, coordinated services; and
Empowered to tackle their problems, reach their full potential and contribute to their communities. 
Despite some good progress, it is clear that local services cannot achieve this vision alone. Too often offering coordinated services means swimming against the tide of policy and battling for political and strategic engagement. A new approach is needed from national government to create an environment in which it becomes the norm for leaders in local areas to put in place the coordinated services that have been shown to work for this group.
The Vision Paper is aimed at government ministers, Members of Parliament and key local decision makers (e.g. councillors, local authority leaders, commissioners). It sets out five building blocks for the new approach with recommended actions for each.  Each of these is covered by a two-page spread setting out the problem and our thoughts on the solutions.
Communicating a clear message that tackling multiple needs and exclusions is a government priority
Defining and identifying people experiencing multiple needs and exclusions.
Creating accountability, leadership and transparency
Making outcomes and commissioning work for this group
Getting the finances right in local areas
A press release is available.  For details of the launch, please see the events page
For more information please contact Oliver Hilbery on 07810 867 190 oliver.hilbery@meam.org.uk