It is universally recognised that employment is a good thing, but as a society we remain less sure about how best to help those who struggle to find and stay in work, including people with experience of multiple needs – overlapping problems with homelessness, substance misuse, poor mental health and contact with the Criminal Justice System.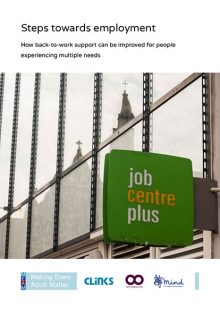 Policy solutions have typically relied on grouping people together in different categories and then attempting to provide them with the right mixture of support and incentives. Yet, as the Work and Pensions Select Committee recently concluded, whilst these solutions – including the current Work Programme – are relatively successful in helping those without additional needs into employment, they are "not working well for people with more complex or multiple barriers to employment."
Today, the Making Every Adult Matter coalition publishes a new briefing that explores how people with multiple needs can be supported towards employment. It is based on interviews across England with people seeking work, and the practitioners that support them.
It provides recommendations to the Department for Work and Pensions to inform the design of new back-to-work support programmes, and also offers guidance for other key stakeholders, including frontline organisations who work with people experiencing multiple needs.
Since late 2015, the MEAM coalition has been speaking to people around the country, including those involved with services in Blackpool, Cambridgeshire, Manchester and Staffordshire, for their views on the different kinds of employment support they have either received or helped others to access. The thoughts and feelings of those interviewed as part of this work raise some important questions about the design of current policy and, in particular, its relationship to the individuals that are affected by it. (You can listen to recordings of some of these interviews.)
The findings and recommendations from this briefing will:
Challenge the use of traditional 'staircase' models of employment support
Provide recommendations for improving mainstream employment support for people with experience of multiple needs
Inform policy influencing around employment by the MEAM coalition partners and their members
We ask that our recommendations are considered by national and local decision makers, including those involved with the design of relevant initiatives such as the new Work and Health Programme; staff working on devolution deals; local authority commissioners; and individual services and partnerships.
Download the full briefing, which was researched and written by Jonathon Graham.