Today we publish a new report based on work we've been doing with people across the country since the start of the year.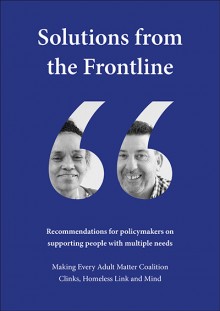 Solutions from the Frontline is based on the ideas and experiences of people with multiple needs and those who support them. It sets out how the new Government, as well as national and local policy makers and commissioners, can act to reduce stigma, improve services, and support people to achieve their ambitions.
In the report, we make three sets of recommendations, based on conversations with people who have experience of multiple needs and the staff that support them.
You can watch two short video interviews with Sandra and Rob, who took part in the project.
Listen to frontline voices and tackle stigma
The views of those with direct experience of multiple needs should be integrated into policy-making and the design and delivery of services.
See Rob talk about this recommendation:
Deliver flexible and more joined-up services
Government and commissioners need to prioritise multiple needs and ensure that they are joined-up, flexible and don't allow anyone to fall through the gaps.
Hear Sandra talk about this recommendation:
Support people toward independence
Back-to-work support providers and local authorities should improve access to personalised support and quality accommodation to allow people with multiple needs to move towards independence.
Thanks to everyone who took part in the conversations and helped make this report possible.