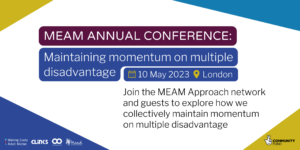 We are very pleased to announce the 2023 MEAM Annual Conference: Maintaining momentum on multiple disadvantage.
Date: Wednesday 10th May 2023, 10am – 4:30pm
Location: Mary Ward House, London
Over the last decade, significant progress has been made on tackling multiple disadvantage. Local areas across the country are increasingly working to transform services and systems, while national government is exploring how to support and enable reform.
This work is however taking place against a landscape of considerable economic uncertainty and increasing demand, creating a risk that services and systems resort to their default modes of operation and siloes.
At this year's annual conference, we invite you to join the 42 local areas that form the MEAM Approach network, and a wide range of other areas, to explore how we can collectively maintain the momentum on multiple disadvantage. The event provides:
Keynote speakers from local areas, national government and people with lived experience reflecting on successes so far.
A range of practical workshops exploring how to hold momentum and drive change at the individual, service and system levels
The opportunity to pause, reflect, refresh and network with others doing similar work across the country.
The chance to influence and inform the future direction for tackling multiple disadvantage.
Who should attend?
This is a critical time to help shape the future for tackling multiple disadvantage. We welcome attendance from those within and outside the MEAM Approach network and across all sectors and roles – strategic leads, commissioners, local and national policy makers, frontline managers/workers and people with lived experience.
We hope you will join us for some insightful and energising discussions that will inform policy and practice for the journey ahead.
The event is now open to pre-book with full agenda to follow.
Each MEAM Approach network area will receive access to two fully-funded tickets. Details on how to use these will be provided through your local area leads.