Sam Thomas (@iamsamthomas)
The Spending Review is the process by which Government decides how to allocate money to pay for services, welfare and other activities. Each department (for instance, the Department of Health) sets out what it needs, and the Treasury decides how funding will be allocated.
This year, the departments are being asked to reduce their spending by £20 billion over four years, which could have a powerful impact on local services. (The government has published a document setting out their approach to this Spending Review, "A country that lives within its means".)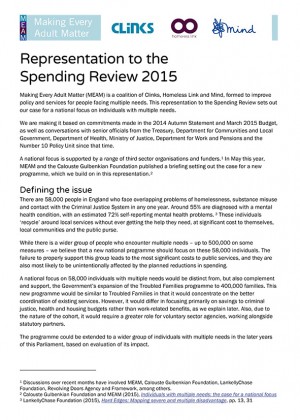 For the Making Every Adult Matter charities, submitting evidence to the Spending Review is an important way to make the case for the work that our members do, and advocate for sustained investment from government in local services. Individual submissions from Clinks, Homeless Link, Mind and Collective Voice have each set out the contribution that our sectors make to improving people's lives.
As a coalition, we have also come together to propose that the government commits to a new national focus on multiple needs, the details of which we have been discussing with officials across government. This would create a framework to better support the 58,000 people who have overlapping problems with homelessness, substance misuse and offending, as well as mental health problems.
People with multiple needs often don't get the support they need, meaning they create significant costs to public services such as A&E and the police, while also being worst affected by cuts to services elsewhere. The severity of their needs means that employment – although an important aspiration – can be some distance off, meaning programmes that rely on a return to work aren't appropriate and are unlikely to be successful. .
The new programme we're proposing would:
provide local areas with support and targeted funding that would help them better coordinate existing services for people with multiple needs
create savings in criminal justice, health and housing budgets across government
be designed and delivered by partnerships formed in local areas, with the active support of people with experience of multiple needs and frontline practitioners from voluntary and statutory agencies.
Our representation has been heavily influenced by people with experience of multiple needs and the practitioners who support them. Through our Voices from the Frontline programme, they've helped us to build our case, and as you'll see from our submission, many of the suggestions we've made to government are based on their ideas.
Thanks to everyone who helped us to build our representation over recent months – government officials, voluntary sector partners and frontline voices. We're sure that this is only the start of the discussion, and look forward to developing these ideas together over the coming months.