Andrew Brown (@andrewbrown365)
New data, published yesterday by the Office for National Statistics, shows that the rate of deaths caused by drug misuse in England and Wales are now at the highest since comparable records began in 1993. Last year 2,248 drug misuse related deaths were recorded, with a further 613 in Scotland and 115 in Northern Ireland. The ONS report that:
deaths involving heroin and/or morphine increased by almost two-thirds between 2012 and 2014, from 579 to 952;
deaths involving cocaine increased sharply to 247 in 2014 – up from 169 in 2013.
All these deaths were avoidable and each of them represents a tragedy for an individual, their family and those who love them. Taken together, they underline the importance of providing effective and timely support to people experiencing substance misuse problems.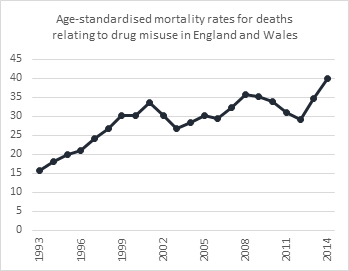 Research shows that drug treatment is a protective factor against drug related deaths, and that the system as a whole reduces opiate deaths by an estimated 880 deaths a year.
However, we know that many services struggle to provide effective support to people with multiple needs – those experiencing mental health problems, who are homeless and in contact with the Criminal Justice System. The last annual survey of the most high risk drug users suggests that 3 in 10 are not currently in structured treatment.
The summit that DrugScope, Public Health England and the Local Government Association held on drug related deaths earlier this year set out an agenda that needs to be pursued:
paying closer attention to people, such as those with multiple needs, who are particularly at risk;
providing timely and accurate drug alerts to users not in the treatment system;
widening the availability of live-saving interventions such as naloxone, a medicine which can prevent death in the event of an opioid overdose.
These deaths also underline the serious risks associated with the planned reduction of £200 million in the annual public health grant to local authorities, which funds drug and alcohol services. We continue to urge the government to reflect carefully on the potential impact of this decision, particularly on those with substance misuse problems.
---
Further details on the data included in the ONS report are summarised below: