Today, the Department for Work and Pensions launched an independent review led by Dame Carol Black into the support available for benefit claimants with drug and alcohol problems.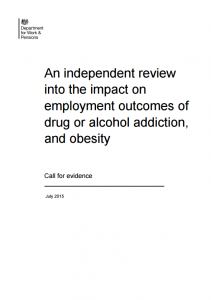 This review provides an opportunity to explore the range of challenges that people with substance issues face in moving towards employment, and explore how the current system could be improved to better respond to their needs.
While a great deal of the media coverage has focused on proposals to make benefits conditional on accepting an offer of treatment, this is one debate within a much wider set of issues and must not be addressed in isolation.
In responding to the review, the MEAM coalition charities – Clinks, Homeless Link and Mind – will seek to represent the experiences of people with multiple needs who have experience of substance misuse, and the practitioners who support them. In doing this, we will draw on the continuing work of our Voices from the Frontline project.
It is important that the review acknowledges the many other factors that prevent people with substance misuse problems from returning to work, such as mental and physical health problems, homelessness and offending. Together these issues demand long-term, joined-up support.
Most importantly, the review must reflect what our members' experience supporting people with multiple needs tells us: recovery and return to employment is seldom rapid or straightforward; it requires individuals' active participation; and effective treatment is only part of the picture.
If you'd like to find out more about our work on this and other policy issues through Voices from the Frontline, please contact Sam Thomas (sam.thomas [at] meam.org.uk / @iamsamthomas).