As part of its work with the Big Lottery Fund's Fulfilling Lives programme, MEAM has produced two short briefings on the political landscape following the 2015 General Election. These are part of a quarterly briefing we send to people working in Fulfilling Lives areas, as well as other interested practitioners who want to stay up to date with new policy developments.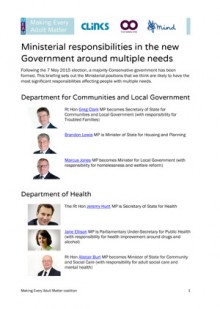 The first is a list of the Ministerial positions that we think are likely to have the most significant responsibilities affecting people with multiple needs. This includes the key individuals across departments responsible for policy on housing, substance misuse, mental health and the criminal justice system.
The second is a summary of the proposals included in the Conservative Party Manifesto that are likely to affect people experiencing multiple needs.
If you'd like to sign up to receive the next briefing, you can do using the form below.