People with multiple needs face a combination of problems including homelessness, substance abuse, contact with the criminal justice system and mental ill health. They fall through the gaps between services and systems, making it harder for them to address their problems and lead fulfilling lives.
It is estimated that 58,000 people face problems of homelessness, substance misuse and offending in any one year. Within this group, a majority will have experienced mental health problems.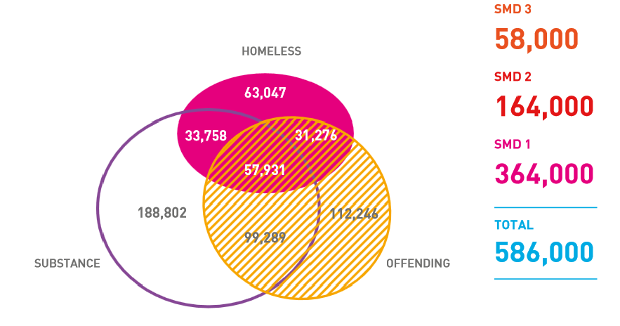 Hard Edges: Mapping Severe and Multiple Disadvantage in England (Lankelly Chase, 2015)
Women are under-represented in these figures, but despite this face significant and distinct challenges which need to be met. Similarly, people from black, Asian and minority ethnic communities experience a range of social inequalities which contribute to their experience of multiple needs.
Why it matters
People experiencing multiple needs often have ineffective contact with services, as in most cases they are designed to deal with one problem at a time and to support people with single, severe conditions. This can mean that people experiencing multiple needs are more likely to access emergency, rather than planned services, such as going to accident and emergency rather than the local GP.
Accessing services in this way is costly: estimates suggest that costs for the 58,000 individuals nationally are between £1.1 billion and £2.1 billion per year. People experiencing multiple needs are likely to live in poverty and experience stigma, discrimination, isolation and loneliness.
This group tend to be known to everyone, but often are served by no one as they are perceived to be 'hard to reach' or 'not my responsibility.' This can make services seem unhelpful and uncaring to someone experiencing multiple needs who is seeking help.