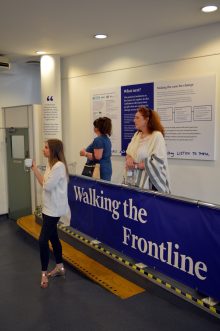 On Tuesday 7 June, the Making Every Adult Matter coalition launched a new exhibition sharing the ideas and perspectives of people with multiple needs and those who support them.
Designed with the help of participants in Voices from the Frontline, a project led by MEAM's embedded policy team over the last two years, the exhibition tells stories about the challenges people are facing, and the lessons that policymakers can draw from their experiences.
At the opening reception, there were contributions from Dr. Adrian Phillips, Director of Public Health for Birmingham, and Richard Harris, an expert by experience from co-organisers Birmingham Changing Futures Together, who created a new painting for the exhibition.